Have you ever tried to improve your meetings, only to become overwhelmed by all the rules the experts say you need to follow?
Do you know you need meetings to get work done, but you aren't certain how many, how often, or what kind?
Are you ready to break past the negativity, and connect with the powerful potential for change, progress, and achievement that's only possible when people meet well?
Where the Action Is is a book for leaders seeking to make sense of their meetings and master their business.
This is the book for you; read on to see why.
Great Meetings Create a Competitive Advantage
What do high-performing organizations like Zingerman's (a collective of gourmet food companies), Bridgewater Associates (an investment management firm), and the Opposing Force group at the U.S. Army's National Training Center have in common? They don't waste a lot of time in meetings.
Does this mean that they don't meet? Not at all. Instead, leaders at these organizations have learned how to design a sequence of tailored meetings that engage people and drive forward momentum.
Distilling insights from business management, cognitive and behavioral psychology, innovation studies, and 10 years of focused work on meetings, Where the Action Is presents a new understanding of how organizations can use meetings to engage their communities, simplify communications, and accelerate progress.
Reviews for Where The Action Is
This book is golden. It's deep, well-researched, and a joy to read. Keith breaks down every business meeting into a taxonomy that provides specific tips – not generic best practices – on formats, timing, and framing. You still may not love every (or any) meeting, but you will find value in the engagement and team performance in the meetings you do have. - Reach Partners, Inc. (1/14/19)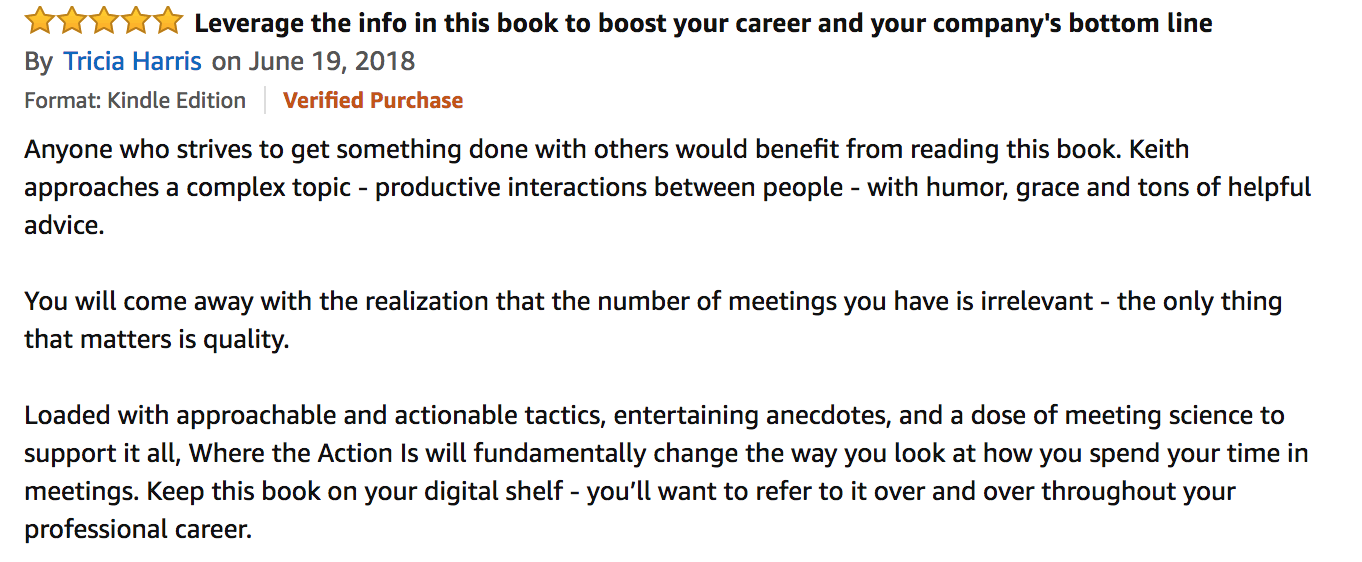 Sneak Peek: Table of Contents
Full of stories, original conceptual frameworks, and new perspectives on meetings, this isn't just another book about how to use an agenda. Here's a sneak peek at the table of contents, with links to a rich set of supporting resources.
Part 1: Breaking the Doom Loop
The Bad Meetings Doom Loop
The Truth About Why We Meet
The Perverse Psychology of Meetings
Introducing the 16 Types of Meetings
Part 2: Mastering the Work in Meetings
The Core Competencies
Functional Meeting Structure
Pumping Up Perceived Meeting Quality
The Spectrum of Meeting Engagement
Designing for Net Positive Impact
The Game Changers
Part 3: Mastering the Meetings at Work
The Meeting Performance Maturity Model
Zingerman's: A Profile of High Performance
The Five Focus Areas for Meeting Performance Maturity
Seizing Cultural Ownership
Assessing Meeting Performance Maturity
Part 4: The 16 Types of Meetings that Work
Wrapping up and Looking Forward
35. From Meetings to Meeting Flows
Final Thoughts: Meetings in a Complex Adaptive System
Sources, by Chapter