Diagnostic Tools
Meetings in Your Organization: A Short Quiz
Take this brief quiz to get a taste of what's relevant to meeting performance.
Only 5 short questions
, but you'll see how your answers correlate to others who've taken the quiz. After this you may be ready for a deeper dive via the survey, below.
Organizational Meeting Performance Survey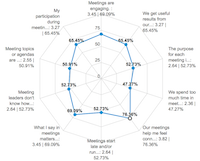 Take this comprehensive diagnostic survey to get a preliminary assessment of your organization's meeting performance maturity. The questionnaire is based on the
Meeting Performance Maturity Model v1.1
. Organizations use this survey as one part of a full meeting performance diagnostic. When
you
take the survey you'll get a beautiful set of charts showing you exactly how you stack up.
Take the Survey Now
or click here to
learn more about the diagnostic
Meeting Cost and ROI Calculators
Monthly Organizational Costs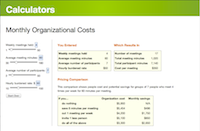 This simple calculator shows
what you're spending in people's time on meetings
now, and what the
savings
would be if you can shorten your meetings by 5 minutes, invite one fewer person, or simply hold one less meeting. The accompanying blog post shows how all of these improvements are readily achievable by groups with access to effective meeting training and tools.
Try It Now!
or
Read the blog post
Meeting Cost vs. Value Received
This calculator explores the cost-to-value impact of a meeting based on the average meeting grade assessed by participants. The rationale:
a meeting that everyone ranks as extremely helpful saves time and money
by making sure that people have clear next steps and no roadblocks. On the other hand, if the meeting drags and doesn't reach any strong conclusions, the team loses the time spent in that meeting and also pays an added penalty for interrupting people's work.
Try It Now!
or
Read the blog post
Total Monthly Meeting Costs
Do you enjoy playing with numbers? Then you'll love this - behold the Total Meeting Costs Calculator. This beauty helps you see the
cost savings you can gain
by optimizing both the software costs and
by implementing basic meeting best practices
. Number-loving friends, you're welcome. For the rest of you, the conclusion is this: if you want to manage the costs associated with your team meetings, you should address your software costs, but the savings to be gained there pale in comparison to the gains made by
improving the efficiency
with which you run those meetings.
Try It Now!
or
Read the blog post
Meeting Software Costs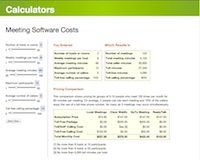 To help you make
software pricing comparisons
, we put together this handy dandy pricing comparison calculator
based on the published retail prices
of Lucid Meetings. Sliders show how the costs change as you increase the number of hosts, callers, meetings, etc, and
they're just darn fun to play with
. Give it a whirl, share with a friend, and let us know what you think. Did we miss something? Is there another vendor we should include? We'd love to hear from you.
Try It Now!
or
Read the blog post