Description of the Template and Guide
How to Run a Strategic Planning Process
A strategic plan is a formal map that explains how your company will execute a chosen strategy. The plan should spell out where an organization is going over the next year or more and how it's going to get there.
Strategic planning with a remote team can present both challenges and opportunities. Although this is typically done face to face, when coordinated and planned properly, remote participants get the added benefit of being able to think through what's most important to them on their own then contribute these ideas to the process.
To support this process, we worked with Anna O'Byrne from Upstream Meetings to create the ​​complete toolkit for strategic planning with remote teams​. Here you'll find a basic strategic plan template, meeting agenda templates designed to walk you through creating the plan with your remote team, downloadable agendas in MS Word (docx) format, and detailed instructions from our blog.
Happy planning!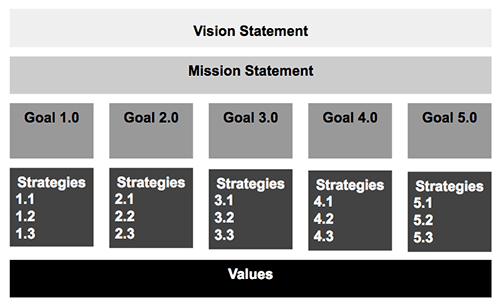 Related Posts:
About
---
See More Templates
A free guide for running your strategic pivot meeting during times of intense change or opportunity. Use this meeting to create new near-term strategy when a big change in the market means your existing strategy won't work.

A free meeting agenda template for setting mindfulness-based guidelines for a sensitive discussion. Includes a 16-page detailed instruction guide.

A free meeting agenda template for structured board meetings that put important decisions first. MS Word and online formats. Includes a 19-page detailed instruction guide.

A free guide for running your all-hands meeting during times of crisis. The all-hands situation update meeting is used by leadership to keep the entire organization informed and aligned during times of rapid change or crisis.