About Stormz
From the Stormz website: 
Facilitate online workshops your way.
Lead the participants into a custom-made workshop in several steps; there's no forced methodology. You can use one or several templates – or save yours – for brainstorming, decision-making, project-management or design-thinking workshops.
Website: stormz.me
Note: Stormz integration is available with paid subscriptions only.
About this Integration
When you use Stormz with Lucid Meetings, you'll be able to: 
Easily add Stormz workshops to your Lucid agendas.
Launch and facilitate Stormz workshops during meetings.
Easily retrieve the report for a Stormz workshop and attach it to your Lucid meeting record.
Using Stormz with Lucid Meetings lets you build rich interactive workshops into the flow of longer meetings that include presentations, discussions, and other topics surrounding the workshop. When you "show" a workshop during a meeting, Lucid opens a frame with the workshop's URL in each participant's browser. Lucid automatically includes the access code, so participants automatically join the workshop, needing only to log in to Stormz if they are not already logged in. 
How to use Lucid Meetings with Stormz
To enable the Stormz integration: 
Click Menu, then click on your organization's name in the navigation to go to the Organization home page.
Click the Settings tab and the Add a new integration link.
Under Stormz, click Add integration.
Click Enable on the Add Stormz Integration form.
Enabling the Stormz integration
To add a Stormz workshop to a meeting: 
Edit the agenda. (See Working with Agendas for detailed instructions.)
Click the drop-down menu next to an agenda item, and choose Add Stormz Workshop.
(Note: this option appears only when the Stormz integration is enabled.)
If you are prompted to connect Lucid Meetings to your Stormz account, follow the directions and click Allow. This will happen the first time you use the Stormz integration.
You'll be offered a list of Workshops you're a facilitator for. Select the one you want, and click Add.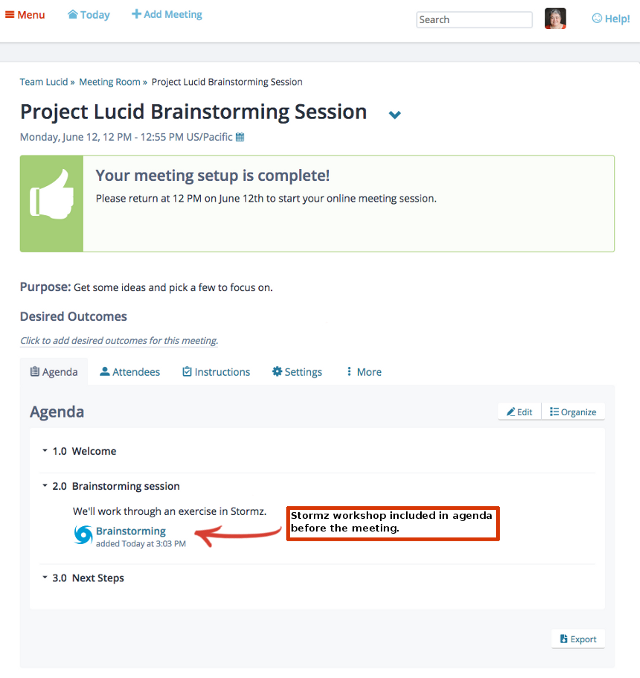 Stormz workshop included in a meeting agenda
To run a Stormz workshop within a meeting: 
Click the Show button next to the workshop's name. This will open a new window with the workshop in each participant's browser. 
The link to the workshop includes its access code, so showing a workshop in a Lucid meeting is similar to inviting people to a workshop with an access code. Each participant will need to log in to Stormz (if they have not already).
Adding a report to the meeting
After you've run a workshop in a meeting, you may want to attach the workshop report to the meeting. To do this: 
Select the down-arrow next to the workshop name.
Choose Get PDF report.
Lucid will retrieve a PDF export from Stormz and attach it to the agenda.