From the Dropbox website:
Put your stuff in Dropbox and get to it from your computers, phones, or tablets. Edit docs, automatically add photos, and show off videos from anywhere.
Website: www.dropbox.com
Note: With our Zapier integration, you can automatically publish any meeting records to your Dropbox account.
About this Integration
When you use Dropbox with Lucid Meetings, you'll see:
An option to add documents from your Dropbox account
When you add documents to a meeting room or a meeting, you can now select documents stored in your Dropbox account using the Dropbox Chooser.
There are no additional charges for using Dropbox with Lucid Meetings.
How to Use Dropbox with Lucid Meetings
You must have an active Dropbox account.
To add Dropbox documents to Lucid Meetings:
When editing an agenda, click on the '+' and 'Add Document' beside an agenda item.
Click the Select button under the Dropbox logo.
The Dropbox Chooser will open in a new window. If you are not already logged in, you will need to enter your Dropbox username and password.
Select the file or files you want to add, then click Add Documents.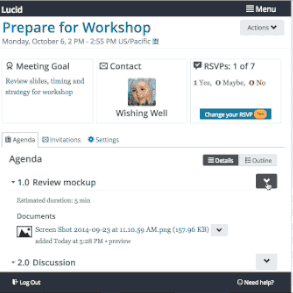 Add files from Dropbox to a Lucid agenda
Troubleshooting: Pop-Up Blockers
If you do not see the Dropbox File Picker appear, you may have pop-ups from Lucid Meetings blocked. Click to "Always allow pop-ups from this site" in your browser settings, then try again.
Here's information about how to change your pop-up blocker settings in the most common browsers: