About Basecamp
From the Basecamp website:
Primarily through word-of-mouth alone, Basecamp has become the world's #1 project management tool. For the last 10 years, companies have been switching to Basecamp because it's famously easy-to-use, reliable, and It Just Works™.
Website: basecamp.com
About this Integration
When you use Basecamp with Lucid Meetings, you'll see:
Options to connect your meeting rooms with Basecamp projects
Each meeting room connects to an active project in your Basecamp or Basecamp Classic account
People from your Basecamp project you can invite
Invite the people in your Basecamp project to your next meeting with a single click
Meetings published to your Basecamp calendar
Publish your meeting to Basecamp in advance to put in on the project calendar and include the meeting agenda as a message in Basecamp.
Meeting records published as Basecamp messages
After the meeting, publish the meeting record and have the full discussion added as a new message for everyone to reference.
Action items added as Basecamp To-Dos
Action items captured in your meeting become new to-dos in Basecamp. Then, updates to those action items made in either system are kept in synch, ensuring you have the most recent status when you go to review action items in your next meeting.
Pricing
There are no additional charges for connecting Basecamp and Lucid Meetings.
How to Use Lucid Meetings with Basecamp
To enable the Basecamp integration:
Click on the organization name to go to the Organization home page.
Click the Settings tab and the 'Add a new integration' link.
Under Basecamp, click 'Add integration'.
You'll be asked to authorize Lucid Meetings to access your Basecamp account. Confirm that you'd like to allow this access. You can always revoke it later if you change your mind.
If you have more than one Basecamp account, select the one you'd like to connect with this Lucid Meetings organization, then click 'Save and next'.
For each meeting room, select the corresponding Basecamp project, then click 'Save'.
Once the integration is enabled, you'll see a button to 'Publish to Basecamp' at the bottom of meeting agendas and meeting records.
To update your Basecamp integration (new room or project):
Click on the organization name to go to the Organization home page.
Click the Settings tab and the 'Basecamp' logo.
For each meeting room, select the corresponding Basecamp project, then click 'Save'.
Meeting Records
Screenshot showing meeting records from Lucid Meetings published as messages in Basecamp
Review full records of your meetings right in Basecamp.
With the click of a button, you can see who attended what meetings, what notes were taken, and what to-dos were assigned directly in your Basecamp projects.
Lucid Action Items = Basecamp To-Dos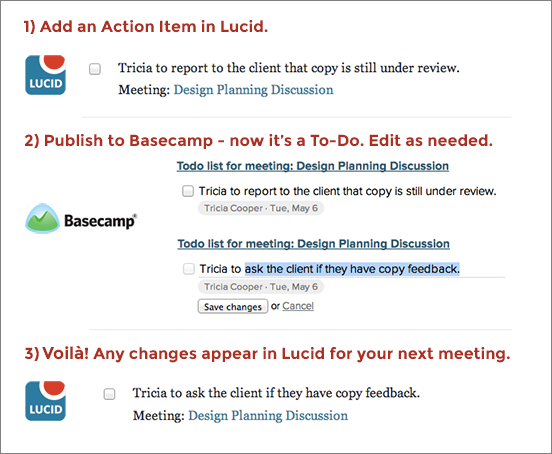 Screenshot showing steps for getting action items into Basecamp
Add an Action Item in a Lucid Meeting, then publish your meeting to Basecamp, and action items instantly become to-dos for your project.
From that point on, they'll be in sync no matter where you edit them.
Add an action item. Publish to Basecamp - now it's a To-Do.
Edit as needed
Any changes appear in Lucid for your next meeting
Calendar Events
Screenshot showing synched meetings and to-dos on the Basecamp project calendar
When you schedule a meeting in Lucid, you can publish it to your Basecamp calendar.
When you add a due date to an Action Item, once you publish the meeting to Basecamp it will show up as a To-Do on the Basecamp calendar.
Meeting Agendas
Screenshot showing Lucid Meetings agenda published as a Basecamp event with the agenda as a comment
Once you create an agenda in Lucid, easily publish it for everyone to see before your meeting begins.
FAQ
I have two Basecamp accounts. Can I connect them both to my Lucid Meetings account?
No. Each Lucid Meetings organization can be connected to a single Basecamp account. You can, however, add as many Lucid Meetings organizations as you need by clicking on your user account, then clicking to "Add a new organization".
Will people get email when I publish a meeting to Basecamp?
No. Events, messages and to-dos published in Basecamp do not send out individual email notices. People subscribed to receive daily summary email from Basecamp will see these items listed.
Can I edit the Lucid Meetings records in Basecamp after they're published?
Once meeting information appears in Basecamp, you can edit it there just like you would any Basecamp event or message. However, in Basecamp Classic and Basecamp 2, you will LOSE ALL FORMATTING on the Basecamp message when you do so. Lucid Meetings sends HTML formatted meeting information to Basecamp, and when you edit that in Basecamp, all HTML is stripped out.
If you need to make minor text changes to your meeting and want those to appear in Basecamp, make the changes in Lucid Meetings first, then re-publish your event. This will preserve the HTML formatting and improve the readability of your meeting information in Basecamp.
What happens if I publish a meeting that's already been published?
When you re-publish a meeting, Lucid Meetings will update the original message with the new information. You will still have only one copy of the meeting in your project records, which will now show the most current agenda or minutes for the meeting.
My Basecamp integration turned itself off. What happened?
When you change your password in Basecamp, this de-authorizes the connection between Lucid Meetings and your Basecamp account.
The Bad News: You will need to re-enable the Basecamp integration in Lucid Meetings, and select again the projects you wish to connect with each meeting room.
The Good News: You can set up all the connections between meeting rooms and projects in one step.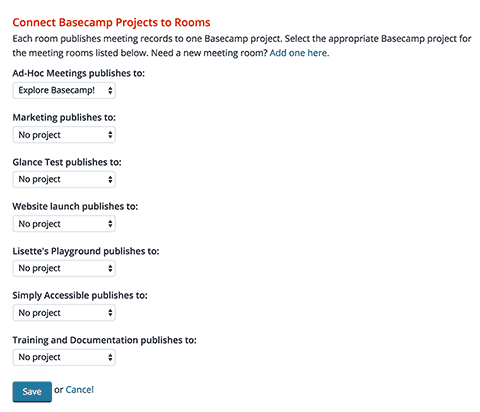 Screenshot: Selecting the Basecamp project for each meeting room