3 Ways to Add a Meeting to...
Every scheduled Lucid Meeting can be added to your regular calendar in one of three ways. People who occasionally attend Lucid Meetings can add each event independently. 
Frequent meeting participants can chose to subscribe to a dedicated meeting calendar, automatically seeing any meetings scheduled appear on their calendar.
1. Accept the calendar invite
Every meeting invitation email includes a calendar file people can click to 'Accept' and have added directly to their calendar. This is the easiest and most common way to get a meeting on the calendar.
Screenshot: Lucid invitations work like other calendar invitations in email.
2. Download and import individual meetings
For people who've lost their email invitation, or who want to add a meeting to a different calendar, we provide a link to download the calendar file for each meeting. Click the calendar icon on the meeting page to get an .ics file you can import into any calendar.
Screenshot: Click the calendar icon on the meeting home page to get a calendar file you can import to your personal calendar.
3. Subscribe to automatic calendar feeds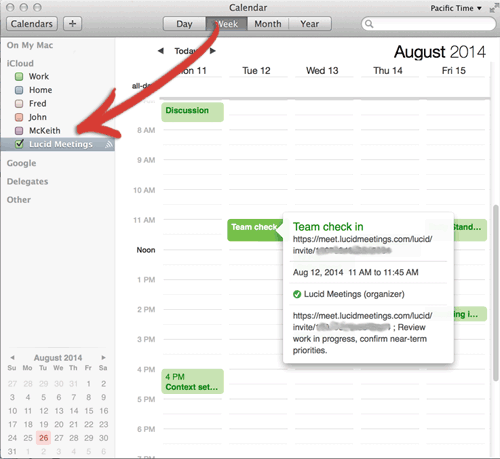 Screenshot: Lucid Meetings events appear automatically on an Apple Calendar using the calendar subscription.
When you subscribe your Outlook, Google Calendar, Apple Calendar or other calendar to Lucid Meetings, you'll get a calendar automatically updated with every meeting to which you're invited. See the time, date, meeting name on your calendar, and click to visit the online meeting where you can work the agenda, meet, and access meeting records.
How to Subscribe to the Lucid Meetings Calendar
Go to the Dashboard by clicking "Today". Then click "Calendar". This is the gray button to the right, just above the view of your meetings for the week.

Scroll to the bottom of that next page showing the full month's calendar. Click the "Subscribe" button you'll find in the bottom right corner there.

Copy the calendar URL
Add a new calendar subscription to your calendar and paste in the Lucid Meetings calendar link. See the instructions for your favorite calendar program for more details.