Screen Sharing by Glance
About Glance
From the Glance website:
Thousands of small businesses rely on Glance for simple, cost effective screen sharing. Whether selling, supporting or conversing, people love the simplicity, dependability, and, most of all, the speed of connecting guests.
Website: www.glance.net
Note: Glance screen sharing is available with paid subscriptions only.
About this Integration
When you use Glance screen sharing with Lucid Meetings, you'll see:
Start screen sharing button for Presenters
People with presenter rights during a meeting and meeting facilitators can share their screen at any time during a meeting.
In-page view of presenter's screen
Meeting participants see shared screens in their browser in the same way as document presentations, including those on mobile devices and tablets. Meeting participants don't need to join a separate web meeting or download any software.
Start and stop screen sharing annotations in your meeting record
All screen sharing events are captured in the meeting log, making it easy to see when notes relate to a screen sharing presentation.
Pricing
There are no additional charges for use of Glance screen sharing within Lucid Meetings, and you do not need a separate Glance account to use this integration.
How to use Glance screen sharing
When using Glance with Lucid Meetings, participants have (by default) view-only access to the presenter's screen. You may optionally enable remote control access in Glance, which lets participants click and control the presenter's screen.
Presenters and meeting facilitators who wish to share their screen will need to download the Glance presenter application. You can host Glance sessions from nearly any Windows 8/7/Vista/XP or Mac (OS version 10.4 or above) computer.
To share your screen:
If you do not yet have Glance installed, you'll see the "Install Glance" button on the meeting's "Start screen sharing" area. Click this to launch the Glance installer. Depending on your browser, you may need to click to allow the Glance installer to run, which will then begin automatically. You only have to do this once; the next time you share your screen, you can just launch the application.
Once you have Glance installed, you will see the "Start Glance Screen Sharing" button. Click it to launch the session, and confirm that you're ready to start broadcasting your screen when the Glance pop-up dialog appears. That's it!
To stop screen sharing:
Click the "Stop Sharing" button.
Session Recording
The transcript automatically records a note when you you start and stop your screen sharing session, and any notes taken during the session will be shown between these transcript entries.
If you'd like a full visual recording of your meeting, check out these third-party screen capture tools recommended by Glance.
These applications let you capture what's on your screen along with your voice. After the session, you can edit the content and publish it in a variety of formats.
Troubleshooting Issues with Screen Sharing
The screen shown seems small and not very clear. What's going on?
Glance always does the best it can, given the available bandwidth, processing power and the complexity of the screen being sent, all of which can have an impact on the quality of the display.
As a viewer, you can
Use the "Expand" arrow to the top-right of the current agenda item to make the view of the screen take up the full window.
Free up bandwidth by turning off any applications which may be hogging it. We have one client that reports much clearer screen sharing presentations when their co-workers stop streaming Pandora and Hulu during meetings.
Presenters can try reducing the resolution of the shared display, and also working to ensure your internet connection is strong.
I just installed Glance and it's asking for a password. What do I enter?
Depending on your computer and the browser you use, you may be asked to enter a Glance password the first time you install it. You do not need a Glance password to use Glance with Lucid Meetings.
Simply quit Glance and return to your browser running the Lucid Meeting. Refresh the meeting page. You will now see a button to Start screen sharing, which will launch Glance using the built-in Lucid Meetings credentials.
Help! Multiple versions of the Glance plugin have been detected!
People who have been using Glance for some time may recently have downloaded an upgrade. On newer Apple Mac computers, the new version of Glance installs in a different location than the older one, creating two copies of the Glance application on your computer. Some browsers get confused by this and refuse to start Glance.
If you see this warning:
In your Finder, select 'Go' then 'Go to Folder'
Enter '~/Library/Internet Plug-Ins' then click 'Go'
Move the 'GlancePlugIn.plugin' to the Trash, deleting it from this USER folder.
Click refresh on your Lucid Meeting and then 'Start screen sharing'.
If you continue to have problems, you can also try completely removing all copies of Glance from your computer, then re-installing the plug in. To do this:
In your Finder, select 'Go' then 'Go to Folder'
Enter '/Library/Internet Plug-Ins' then click 'Go'
Move the 'GlancePlugIn.plugin' to the Trash, deleting it from the SYSTEM folder.
Click refresh on your Lucid Meeting and then 'Install Glance'.
Follow the prompts to download Glance and install the application.
Refresh your Lucid Meeting and click 'Start screen sharing'
Using Google Chrome, when I click "Start screen sharing" nothing happens. What's going on?
You may be a victim of Chrome's Hotel California protocol handling settings.
We are programmed to receive.
You can check-out any time you like, But you can never leave! Hotel California by the Eagles
It works like this. When you click to Start screen sharing, your browser uses a protocol handler to open Glance and get that running. The first time you do this, you will see a box asking you if it's ok. It looks something like this: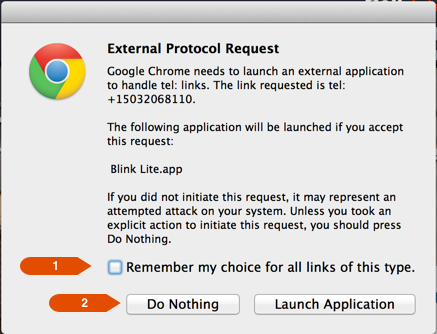 If you check the box to "Remember my choice for all links of this type" AND "Do nothing", guess what? Each and every time you click the "Start screen sharing" button from there out, Chrome will do exactly nothing. As far as we know, there is no way to undo this setting from the Chrome interface.
Note: This fix seems very hacky. If anyone knows a better and easier way to address this issue, please let us know!
To see if this is the case, you'll need to look in the Chrome Local State system file. Here's how:
In your Finder, select "Go" then "Go to Folder"
Enter "~/Library/Application Support/Google/Chrome"
Find the Local State file and open it using a text editor.
Search for "protocol_handler". You should see a list of "excluded_schemes" followed by items with a "true" or "false" setting.
Change the setting for "glance" from true to false.
Save and close the file.
You may need to restart Chrome to have this change work.