Using Lucid with Google
There are multiple ways to connect Lucid with your Google business software, or with your personal Google account.
Add the Lucid Meetings Chrome extension!
The Lucid Meetings Chrome extension provides full integration between your Lucid Meetings and Google calendars. With this extension you can automatically make any Google event a Lucid Meeting, with complete support for attendees, meeting templates, agendas, and more.
In addition to full calendar integration, the extension includes features to start a Lucid Meeting instantly from your browser and to list (and mark complete) your open action items.
Use your Google account to sign up or log in
Never have to worry about remembering a new password for Lucid.
How it works:
If you already have a Lucid Meetings account with the same email address you use to sign in to Google, simply click the Google sign-in button on the Lucid Meetings login page.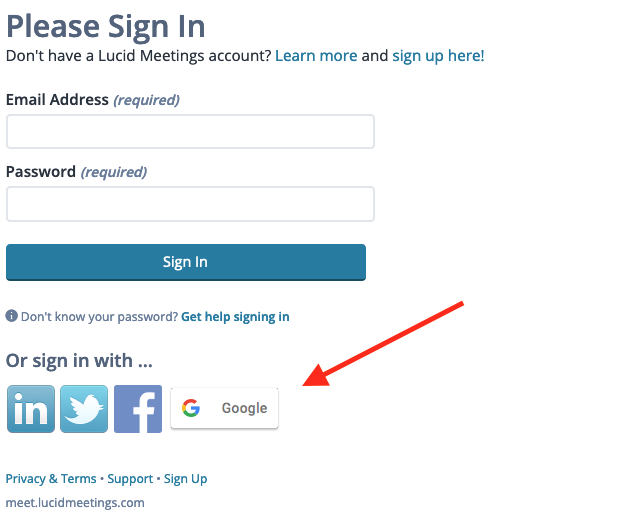 If your Lucid Meetings account uses a different email address, you can still sign in with Google, but you must connect the accounts by editing your Lucid account profile. Choose "manage social logins" on the password change form.
If you don't have a Lucid Meetings account, you can use Google sign-in on our login form, and we will automatically set up a personal account (free) for you, using your email address and name from Google.
When you use Google sign-in, Google will ask you to grant Lucid Meetings access to your email address and profile. We use the email address to identify which Lucid account you're logging into (or to provision a new one), and use your name to set up your initial Lucid profile.
Related Blog Post:
Learn more about the Lucid Meetings Chrome extension »